The center halfback may be the most important person on your team. This will be the player who is central to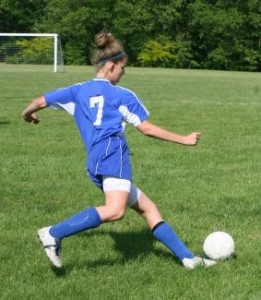 everything, both in attack and defense. Good center halfs are a rare breed and you should consider yourself lucky if you happen to have a player that fits the characteristics of this position. Let's take a look at some of the responsibilities of the center halfback and some of the attributes of a player that might make him or her a great fit for this responsibility.
The center halfback is your team's one true two-way player. In other words, he'll be a defender and an offensive weapon at the same time. Many young players have trouble merging these jobs together and knowing when to switch from one to the other. Even players as old as U14 or U16 find the dual roles difficult.  There are very few drills specifically to train a player to be a center halfback. Often you'll have a player that just naturally rises to the occasion and becomes a fit for this position.
Defensive Roles
1) Since most goals are scored from within a 15 yard arc near the center of the goal, the center half will find himself involved in almost every situation that threatens his own goal. He'll often be responsible for repelling attacks before they've gained the momentum in the mid-field.
2) Defensively, the center half should be dominant in the air, have a great knowledge of the defense, and be able to read dangerous situations quickly. He should be strong to win balls when tackling and have great speed to cover and win possessions by intercepting passes. His main function on the defense will be that of a ball-winner and marker of the opposition's central forward striker.
3) He must learn to decide whether he's being lured away to make space for a more dangerous attack. Finally he must master the art of moving up to catch opponents offside.
When unsure as to where to clear a ball, he must get distance or drive the ball towards the wings.
Offensive Roles
1) To become dominating in the air, he must have complete confidence in his own judgment of the flight of the ball and where he can make contact. Some players are drawn in by the move­ment of the opposition. A center half he must give himself room in which to work and time to make up his mind.
2) He should get to loose balls as quickly as possible, giving himself more time to use it constructively. He needs to always be positive, either when moving in to win the ball or when backing off.
3) Very few center halfs play up and down the entire field but there will be times when that happens. He must learn to use his vision, not only watching the movement of his own player but that of the whole opposition in general, trying to decide where the main danger is and how to deal with it.
Your center half should be a strong player and more importantly a quick thinker who is able to read what's happening during the game and able to make decisions fast. Very few young players possess this ability. Players who are aggressive and able to get into a quick "flow" of the game may be best suited for this role on your team.