The process of player development is long and a method that requires very thorough approach. Each age group has very specific demands that will enable your players to reach their potential. It is an imperative to understand what players of a certain age can process and what is suitable for them to work on. Implementing exercises you see professional teams do are usually not the right fit for young players. So, what are the requirement and needs for age groups?
We can start by dividing them into 5 separate categories:
– Introductory/Fundamental Period, 4-8-year-olds
– Developmental Period, 9-10-year-olds
– Golden Years of Learning, 11-12-year-olds
– Learning to Compete, 13-14-year-olds
– Learning to Win, 15 and up
In the next 5 parts, we will take on those requirements in more detail.
Part I, Age Specific Needs: Introductory Period, 4-5-year-olds:
Developing a practice or a season plan for these ages can be a very challenging but also very important task. The approach should be child-focused, meaning one player per ball for a good portion of your training session. (read a post about Development Over Winning: 8 Aspects of Proper Player Development) At the beginning of their soccer careers players need to develop a love for the game and if it's not fun and engaging they won't want to participate. Even if the session is very good and creative some kids will be resistant. Finding a way to motivate every individual will be one of many responsibilities.
So, create exercises that are fun, engaging multiple muscle groups, dynamic, short (considering the attention span) with plenty of games, repetition, and breaks. Make it simple, entertaining yet soccer applicable so they're learning without even noticing. The bottom line is, if they don't enjoy it they will not want to come back.
– Technical:
Develop familiarity with the ball – dribbling with different surfaces of the foot – inside/outside, laces. Keep the ball close with lots of small and dynamic touches while focusing on the ball and also keeping the head up while moving into space. Start introducing moves and turns such as the step over, Maradona, Cruyff… Lots and lots of repetition, slow progression within training session without forcing too much material. Rather a slow and steady progression to make sure children are learning the material.
– Social:
At this stage, they will start to develop the concept of other people around them and build relationships. Being around their friends is one of the main reasons for participation. Foster and encourage interactions with and among your players.
– Physical:
Focus on developing a range of motion and turning, jumping, landing, throwing, catching skills. All of these aspects need to be done while players are working with or around the ball. You can incorporate a lot of tag and relay games that will be fun while players will work on multiple muscle groups.
– Cognitive:
One aspect to consider is the development of imagination, creativity and learning about trial and error. Be very supportive of all of your players and provide them with plenty of praise and encouragement especially to the ones that are holding back and/or are shy.
– Tactical:
No serious tactical work needs to be done for this age. The main focus should be on players starting to learn about rules, positions (3v3, 4v4 and no GK at this point) and applying principles of play – penetration, mobility, and creativity.
In conclusion, players at this age are self-centered. You need to understand that and use the concept of one ball per player with lots of repetition and movement. Create a friendly environment where children can feel comfortable experimenting, trying and developing their overall comfort with the ball. (how to plan a training session? read about 6 Steps of Methodical Soccer Practice)
The session should not be longer than an hour, once or twice per week with well-timed breaks to avoid boredom and 'losing' your players due to focus span.
Here are some sample activities, from a simple warm-up to a group activity and fun game. Keep it simple and effective. You should always finish you training with a scrimmage where players should be encouraged to implement skills that were learned during the training session.
Warm-up:
– One player per ball, dribbling in the grid.
– Focus on close control, small touches, feints, moves, jumps, turns…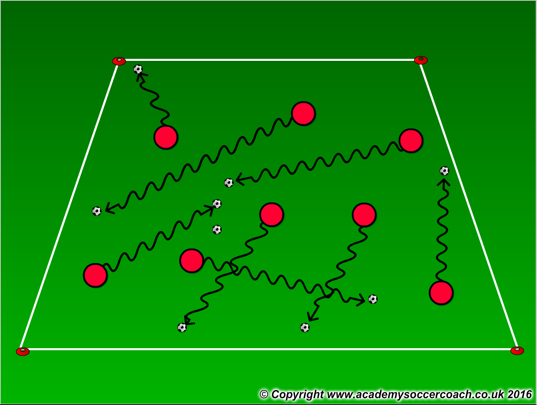 Small Sided Activity – Crab Soccer:
One group of players starts with the ball while 2-3 volunteers start as 'crabs' (in blue).
Players in 'red' jerseys try to dribble from one end of the field to the other while 'crabs' try to win the ball by locking it in between their legs. They also need to move as 'crabs', palms of the hands on the ground and propped up using their hands and feet to maneuver around. Once they secure the ball in between their feet 'red' players automatically become 'crabs'.
Great and a fun activity for ball control, movement, change of direction/speed.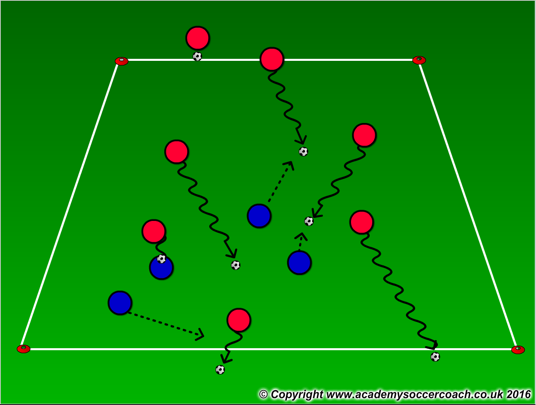 Group Activity – 1v1:
It starts with the coach serving a ball and two players (one from each end) runs to try to win it. Whoever gets to the ball first tries to beat the defender and score. If the defender wins the ball he/she is trying to finish. Players need to engage in contact before shooting on goal. That way you will emphasize ball control and avoid players running to the ball and just kicking it.
Players can execute different movement activities on their way to the top cone such as duck walk, backpedaling, side shuffles…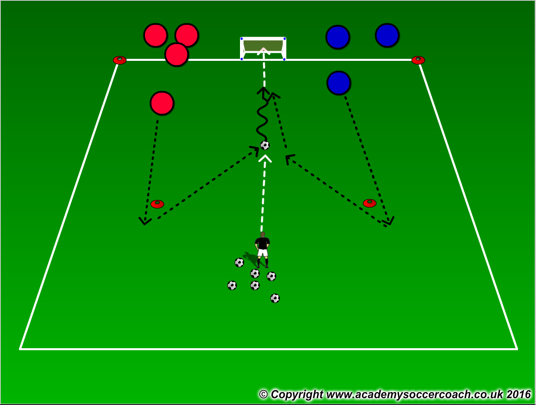 Scrimmage:
– 4v4 or 3v3, no goalkeepers, and coach should have a good supply of soccer balls to minimize stoppages. Encourage players to engage other players in 1v1 situations and remind them to about using the space (looking at the diagram you'll see all the players running toward the ball), as much as possible. This will be difficult but you need to start somewhere.