"Sign up to for our FREE Newsletter and We'll Send You the eBook – 42 Soccer Drills and Practice Plans That Will Help You Develop a Winning Soccer Team!"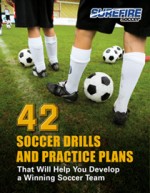 The eBook includes 42 of our favorite soccer drills and 5 practice plans… And it's completely FREE! It includes complete step-by-step illustrations, easy-to-follow instructions, motivation tips, and coaching tips for all 42 soccer drills!
To receive the free 170 page eBook and our free monthly newsletter, enter your name and email address — and we'll email you the download instructions!
We guarantee that we will never send you spam or share your email address. We HATE spam too!
Sincerely,
The Surefire Soccer Team