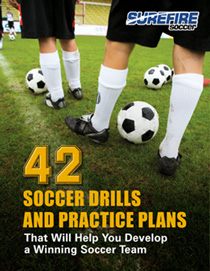 We're pleased to announce that we have released a new eBook (which is completely free)!
The 170 page eBook includes 42 soccer coaching drills.  Each drill includes full color diagrams, step by step instructions, motivation tips, and soccer coaching tips.  
The drills are broken down by both category and skill level.  The categories include:
Shooting Drills

Passing Drills

Dribbling Drills

Defensive Drills

Offensive Drills

Goalkeeping Drills

Team Play Drills
Each drill is then labeled by skill level  rather than a specific age group. These skill levels are Beginner, Intermediate, and Advanced.  It's our intention that these categories be used by coaches as a general guideline based on the ability of players they have on their team.
The book also includes 5 sample practice plans to give you an idea of how to incoporate the drills into your practice. 
You can download the eBook by signing up to our free email newsletter (which you cancel at any time):
https://www.surefiresoccer.com/resources/free-newsletter/