Drill Purpose
Offensive players of all skill levels, when under pressure, can develop the habit of dropping the ball back to a defensive player for help more than they should. No Going Back is a drill that helps develop a forward-attacking mindset since it takes away the option of passing a ball back to a defender when in trouble. It's also a drill that develops dribbling and defensive tackling skills.
Instructions
1. Five players per drill group are utilized in this exercise. Equipment that's needed are 18 cones or flags.
2. The field is divided in half lengthwise and is then further divided into four enemy zones and four neutral zones. One defender positions inside an enemy zone and may not leave their zone.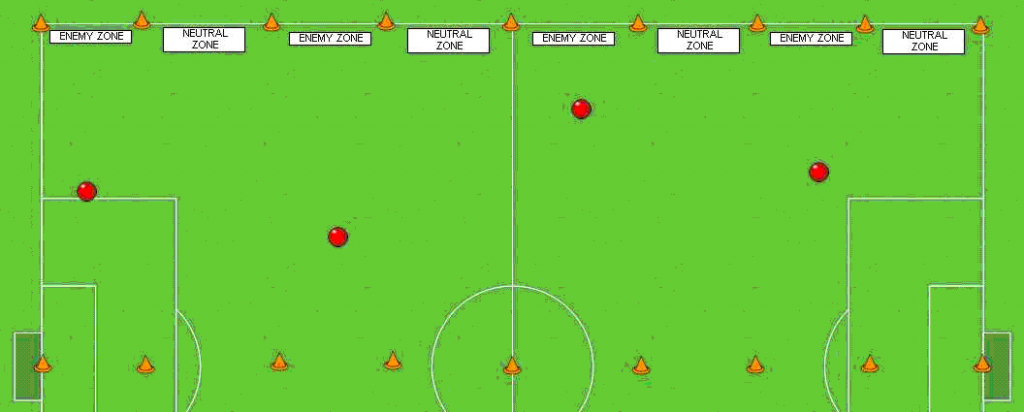 3. On the whistle, offensive players attempt to dribble from one side of the field to the other by navigating through enemy zones to neutral zones. Players are safe when in a neutral zone but may be attacked when in an enemy zone.
4. When the offensive player loses the ball to the defensive player, the play is stopped and the offensive player takes the ball and moves to the next neutral zone to start a new attack.
5. Each time an offensive player successfully dribbles through an enemy zone one point will be awarded. If the offensive player loses the ball or if it goes out of bounds, then that player moves on to the next neutral zone without having been awarded a point.
6. Once a player moves into an enemy zone, he or she must move forward and cannot go back to a previously used neutral zone.
Points of Emphasis
No Going Back is a drill that helps players work on several skill sets. Offensive players develop great ball control skills and defensive players are given a chance to work on one-on-one defending and slide tackling.
During No Going Back, instruct players to…
offensive: move through the zones as quickly as possible so defenders aren't given a chance to prepare.
offensive: use as many trick and feinting moves as is necessary to navigate the course.
defensive: be careful not to "throw the leg" after a ball unless sure of gaining possession otherwise the offensive player will go right around.
Progression
As players gain an understanding of the game, further variations include:
1. Using two defenders in each enemy zone and/or allowing two offensive players to navigate the course at the same time.
2. Requiring that offensive players only be allowed in neutral zones a certain amount of time.
3. Require offensive players to finish the course with a shot on goal.
Motivation / Teaching Tips
Tip #1 – Reward offensive players that score the maximum number of points, which is 4.
Tip #2 – Encourage players to be creative and use any moves they have in their arsenal to lose defenders.
Tip #3 – Offensive players should try to change the speed of their dribble to further fool defenders as they progress through the zones.