It takes courage to be a good goalkeeper. Keepers must throw their bodies into the fray of players in order to block or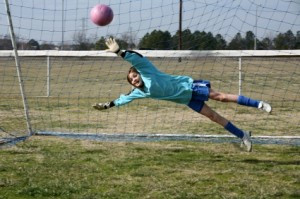 catch a ball to help their teams. A goalkeeper facing an opponent about to shoot must get as close to the forward as possible, giving him as little space as possible in which to score. This should be done in the most efficient way with the least amount of injury risk.
To begin with, the keeper should be properly clothed. Repeatedly diving down on firm ground can cause certain grass burns or grazes. A good suit with padded hips will help to prevent chafing from the ground. Also, beginning goalkeeper training should be on soft ground. If you have a team of pee wee players or those that are under-10, it will take time before they "harden" themselves to play on any surface.
Most goalkeeping soccer drills are aggressive in nature. Work in twos and have a teammate dribble slowly towards the keeper from thirty yards. The keeper should advance to meet the ball in a crouched position to cut down his teammate's angle. When about fifteen yards from the ball, the keeper should prepare to go down by keeping his body as low as possible so that he doesn't have to swoop on the ball and so that his head can be kept steady. He should then throw his legs sideways and his body towards the ball so that the side of his calf, thigh and hip come in contact with the ground early enough not to allow the ball to slide under his body.
As he hits the ground the momentum of his body will still be moving forward (this is when keepers get those pesky burns) and the ball is gathered with his lower arms. His knees will now come up quickly and his head will be slightly forward so that he completely smothers the ball. The best place to gather the ball is into the lower chest.
If the forward attempts to take the ball around him, his hands will help one way while his feet can be used if he goes the other way. By going down in this manner the injury risk is minimized. To go down head first is not only dangerous and also his body covers only a fraction of what can be covered going down sideways.
Once your keeper has gained confidence at going down, practice getting the teammate to dribble the ball towards him and to lose control slightly. The keeper then should advance to meet him in a crouched stance and look for the mistake. When he loses control the keeper can then go down at the ball. Now have the teammate go in towards the keeper with speed and try to score. The keeper then needs to look for a slight error such as when the teammate has played the ball too far in front of himself.
It's often said that in all sports a tentative player who's too "careful" and plays to avoid injuries ends up being the first one injured. A goalkeeper must be courageous especially in these dangerous situations. If he is afraid of diving at the feet of an advancing forward, or goes in tentatively, then he's risking injury to himself and harming his team.
At training sessions, make sure that you prac­tice with your keeper skills to get this confidence. With two or three team-mates, practice the keeper as often as you can. This will instill the confidence in him to be competent and courageous. It's likely you'll find that special player on your team who fits the keeper mold. It's more of a mindset than anything else. Consider yourself lucky if you have such a player.