Part of the thrill of soccer is watching fullbacks flying down the wings to get into a good forward position or cross the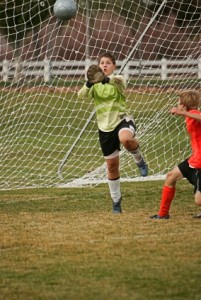 ball. When executed at the right time this can prove very successful, but a fullback must never forget his primary role, which is defense. The fullback is first and foremost a defender. His chief responsibility is to defend his own goal. The fullback who attacks as a flank striker should be considered a bonus and he should only be allowed to go forward when the situation is right.
The fullback is basically a marker, a ball winner, and a supporter in defense and attack. He must be experienced in the art of positioning. A good fullback always finds himself adjusting his position. To become a great, a fullback must concentrate on the game so that he can recognize dangerous situations quickly. Distribution to forward players is also an important aspect of this position.
As a coach, it's your job to learn the skillset of the opposition. This might be difficult in pee- wee or under-10 leagues, but the older the player the more publicity he or she gets and it's easier to find out strengths and weaknesses so you can use them to your advantage. For example, a skilled opponent should be pressured and hustled with aggression as quickly as possible, so he should be marked close when the ball comes over into your fullback's vicinity. You should also discover how the winger intends to attack you, find out which is his best foot, whether he is going to attempt to take your fullback on the inside or outside, or whether he intends to use another player for help. You'll also have to consider the effects of ground conditions on the ball. Solving these problems will help your fullbacks in two of their main functions which are marking and winning the ball.
Design aggressive soccer drills to develop the techniques of winning the ball. It won't be long before your players develop a feel for all situations and conditions. The timing of tackles, for example, must be adjusted to changing weather conditions. Also, a sense of vision must be developed because some of the best attacking play can come from a fullback's distribution and he should know what's going on in the attacking end.
Practice games of attack versus defense should give opportunities for you to show your players their main responsibilities. During these coaching sessions it's best to work on one thing at a time. For marking, ensure that the ball is played out to wingers as much as possible. For cover, ask the attackers to switch the ball from wing to wing so that fullbacks experience the function of moving in to cover the middle after doing a marking job.
For immediate support, encourage the attack to break through the middle often with the aid of an extra man. When the fullback gains possession, he must be given a target player or players to find. This will help to cultivate the skill for dropping the ball into space for the target man when he gets into position.
The fullback's role is a varied one and the key must be to put the priorities in the right place. Never forget that a fullback is primarily a goal defender.