Every player wants to play for a team rather than a collection of individuals. To score goals there must be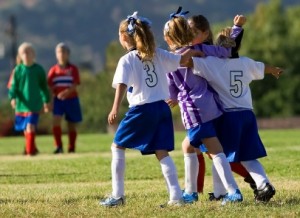 organization and team-work in attack, and switching the play or attack is part of this organization.
In order to become good at switching play, players should have the internal skill of being able to sense what's going on all over the field and to sense the next move before it happens. This takes time to develop for young players and many achieve it faster than others, but for all it will eventually come. Kindergarten-age and younger soccer players are more concerned with what's in front of them and don't have the ability or sense of the game to know what's happening on another end of the field.
Here are a couple soccer drills you can show your players to get them thinking big and developing awareness. Feel free to adjust these drills or add dimensions to them to make them more or less challenging for the level of players you're coaching.
Drill 1) You can begin by practicing in groups of three. Have three players pass a ball to each other. As always they should concentrate on hitting the passes cleanly so that in a match they would have enough power to reach the player it's intended for.
As soon as the players have the feel of the ball, detach one player from the group and get him to stand about 20 yards away from the other two, who are still passing the ball to each other. His job is now to make a run and call loudly for the ball.
When he calls, the player who has the ball must immediately pass the ball accurately and crisply to him. He then returns the ball to the two who begin passing amongst each other again. Players then switch roles and begin another run.
The idea is that the two players who are passing the ball back-and-forth must also be aware of what the player who is making the run is doing. They must keep in mind where he's positioned. In other words they must have vision. So while passing the ball, they should look up and around so that they know what's happening. In this practice they'll only have to watch for one player, but in a game they'll have several team-mates and many defenders to keep an eye on.
Drill 2) Now take this drill a step further. 'Four Passes' is a good way to build up vision. Split your group into two equal sides and play in a restricted area, such as the penalty area. The object of the exercise is to score goals, but they only count if they come after four consecutive passes by the attacking side.
As soon as you start to play 'Four Passes' you'll see how your player's vision will be put to the test. Unless they notice where their teammates are running, they'll never be able to string together the four passes needed to score a goal.
However, when they do get a goal they'll be amazed at how much enjoyment and excitement they feel from it. The ability to link four passes together and beat a goalkeeper is great team-work and that's the key to soccer. In a game you'll now have another weapon to create chances and score goals and you'll get further enjoyment from the game knowing it was your player's team-work that built the goal!