Description
Brief Description:
You see two entire Notre Dame practices. Teaches you how run efficient drills to warm up, cool down and everything in between. Teaches you how to effectively defend as a unit and develop a dominant goalkeeper.
Recommended for intermediate and advanced coaches (U10 & up).
Price: $39.99 (2 DVD set)
Our Review of the DVD:
Great 2 DVD set for the intermediary and advanced coach. Over 3 hours of practice time shown and explained, from warm-up through a progression of activities and small sided games. Another unique feature is the goalkeeper training section of the DVD.  Bobby Clark is one of the most knowledgable college coaches in the country and runs practices that are worthy of emulation.  A must have for the serious coach. Overall Grade: A.
Description of the Product: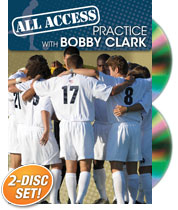 Never before has such a prestigious program opened its doors to the coaching world as in this landmark soccer DVD from Bobby Clark. Take a seat in the stands as Clark coaches and narrates his way through two complete Notre Dame soccer practice sessions. Clark's practices include team offensive drills, a very detailed dynamic warm-up, a 10v6+2 and an 11v9+2 drill placing an emphasis on spacing, crisp passing and strategies for scoring. He demonstrates defending as a unit with the emphasis on team shape and collective defending. He focuses on a 6v4 drill from a variety of sets and intensity levels. All Access Practice also includes goalkeeper practice: Footwork drills, high ball drills, low-ball drills and hand drills; everything you need to develop a dominant goalkeeper. This two DVD set is a one-of-a-kind look inside an elite program. Any coach at any level will find this set extremely beneficial. Over three hours of footage for the price of one DVD.
DVD features Bobby Clark — University of Notre Dame Head Coach, Back-to-Back Big East regular season champions (2007-08); Clark has led the Irish to eight straight NCAA Tournament appearances (2001-08).
DVD Segments:  Disk #1
Introduction
Warm-Ups
Running Warm-Up
Foot Agility
Passing Warm-Up
10 V 6 +4
11 V 9 + 2
Cool Down
Practice Wrap-Up
Conclusion
DVD Segments:  Disk #2
Introduction
Passing Warm-Ups
Passing Network Warm-Ups
3 V 4
6 V 4
Defending as a Unit
Practice Wrap-Up
Cool Down
Conclusion
Bonus Goalkeeping Instruction: Disk #2
Introduction
Hand Warm-Up
Dive Warm-Up
Catch Warm-Up
Footwork
Ballistic Stretching
Dive Drills
Ability Drills
Pass Drill
Four Cone Drills
Conclusion
178 minutes (2 DVDs). 2009.
Sample Video Clip
30 Day Money Back Guarantee
Just like any reputable book store or retail business, we have a 100% money back guarantee too. If for any reason, your purchase is not what you expected, just send us a message and we'll give you a full refund.
If you have any questions, don't hesitate to contact us.