Your center midfielder just battled and gained control of the ball near midfield by winning a 50/50 ball. She takes a controlling dribbling and passes to your left wing, who made a nice run down the sidelines. Your wing beats the defender and crosses back to the middle. Your center forward works to control the ball in opponent's box and takes a hard shot. Out of nowhere your opponent's defender blocks the shot and another defender kicks the ball towards mid field.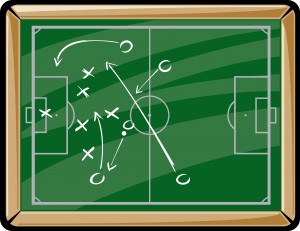 Where are your defenders?
If your team is like most, your defensive players are on the defensive side of mid field, and often as far back as their own 18 yard line. In this situation, you have just negated all the hard work of your midfielders and forwards. If your defense is positioned correctly, they could collect that errant pass from the opponent and put the pressure right back on the other team.
What players, and many coaches, don't understand is that pushing up and out of the backfield will give their team the ability to maintain possession. This is referred to as "condensing the field."
When your team is in control of the ball, quickly move the defensive players forward. This will give you more offensive options front, back, and square. Condensing the field is a similar concept to a goalie rushing out of the net to meet an oncoming offensive player, giving the offender less of an area in which to maneuver and shoot.
Many teams will position their defenders just outside of their own 18, even when they're on the attacking end, to thwart off an attack should an offensive player break through. By keeping defenders back, the field is lengthened for the offensive team and essentially gives them more room to operate. They'll have more room to play and more gaps to exploit, and thus a better chance to score on your team.
Teach your defense and midfield that they should always be thinking to push forward to support the strikers as they're attacking. With this mentality, you can have all 8, or 11 (depending on the age group of your team) players attacking as a unit. What coach wouldn't want to have 11 offensive players attempting to score?
Is condensing the field the same as an offside trap?
When attacking as a large unit, a lot of offside opportunities are created. Most young (and even high-school age) players won't understand the offside concept and a lot of coaches don't know how to coach it at an early age. By condensing, you're moving the defenders forward and thus shortening the field in which you have possession. Catching an opposing team offside is not the purpose of condensing the field, although it's a great benefit of this kind of a system.
Opposing teams, when faced with a team that's condensing the field, will find that they have less space in which to work. This will leave them faced with a style of play in which they simply have no other option but to kick the ball long into the offensive zone and try to catch up to it. So if you're a team trying to condense and move up the field, the spacing will force the other team to be offside and force them to kick long balls into your zone, which are easily captured by the goalie.
Positives vs. Negatives of Condensing the Field
Condensing the field increases the ball possession time and scoring chances for your team. It also reinforces that all players are responsible to get to the ball and pressure the opponents quickly. Another positive advantage is that the opponent will have more offside calls on them, and they'll become frustrated and lose mental composure as well.
On the negative side, when defensive players push up they must understand they have to pressure the player with the ball because if that player dribbles by them then they are turning around and chasing her back. Midfielders need to transition quickly if the possession is lost.  You need aggressive defensive players who will anticipate when a ball will be coming towards them, and they need to attack the ball, control it, and get it back into a scoring position. You also need to teach your keeper to look to come out of the goal and even the box to capture through passes.  If the keeper and defenders are tentative, the offensive will control the ball in the space created by pushing up.  Another disadvantage to this more aggressive style of play is if your defenders are signficantly slower than the opposition forwards.  If you find the opposition is sending through balls into the space behind your defenders who have pushed up, and their attackers are faster than your defenders, you will need to adjust your strategy. 
Condensing creates an offensive and defensive team mindset
A good offense arises from a good defense. By condensing the defenders are the first line of offense. Use scrimmages to instill into defenders the understanding of why it's important to get out of the back quickly and its advantages versus the disadvantages of standing and watching play from their own 18. Teach players that no matter where they're located on the field they're all defenders and they're all offensive players as well. Defenders should be encouraged to make overlapping runs out of the back. The minute a forward loses possession, they need to quickly pressure the ball to disrupt their play. Condensing will allow you to attack, defend, and regain possession once the ball is lost.