Drill Purpose
Defensive Recovery stresses skills and formations that will be needed in game situations. Breakdowns in the defense will inevitably occur and having a simple plan in place to deal with oncoming wing attackers is critical. This is a drill that mimics a common occurrence in any game and develops a teamwork mindset. Players naturally learn to back each other up.
Instructions
1. A total of eight players will be utilized – 4 offenders and 4 defenders. This drill will encompass one half of the field and defensive players are to line up equidistant on one side of the center circle along the 50 yard line. Three of the offensive players will line up on the other side of the field. The distance between the 1st and 2nd offensive player will be about 20 yards and the distance between the 2nd and 3rd player will be about 5 yards. The 4th offender is on the other side of the field in an attacking wing position.
2. On your whistle offensive player 1 passes to 2. Offensive player 2 passes to. Meanwhile, the defense lines up in a formation in which each is "sweeping" for the next player to his/her left. The last defensive player in the line defends offensive player 3 as well as watches for a sudden crossing pass to the 4th offensive player on the other side of the field.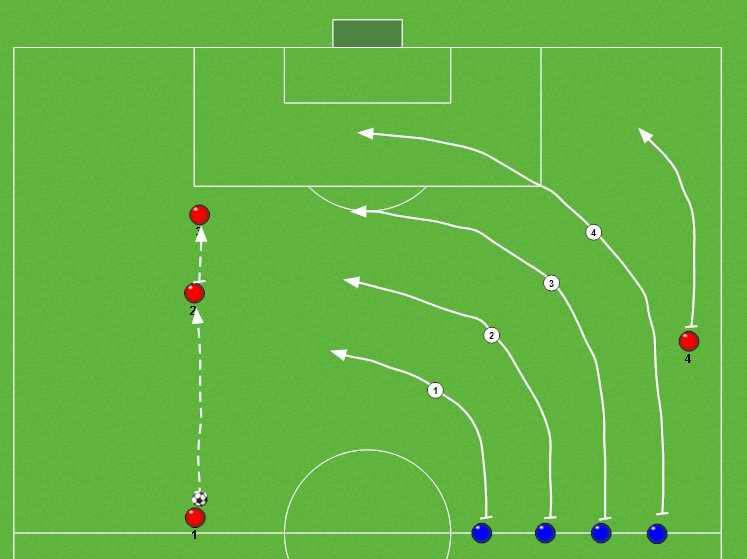 3. Play ends once a goal is scored by the offense or the ball is taken away by
the defense.
Points of Emphasis
Defensive Recovery is a drill that requires team strategy and a lot of communication. Players like it because it resembles a scenario that pops up in every game. During Defensive Recovery instruct players to…
(defensive) be aware of their teammate's locations.
(defensive) keep the "big picture" of the defense in mind.
clear the ball to the outside.
listen to the goalie who will be viewing the defensive alignments.
Progression
As players gain an understanding of the game, further variations include:
1. Including more offensive players and possible a 5th to support the 4th on
the defensive side of the field.
2. Rotating defensive players in and out of the 4 positions. Sometimes a player
is more comfortable at one position than another.
3. Switching sides of the field so players are familiar with the build-up of plays
no matter where they occur.
Motivation / Teaching Tips
Tip #1 – This drill instills in players that there is always help and
one individual is rarely the last in line to stop an offensive attack. Continual rotation of defenders is the key.
Tip #2 – Award offensive players should they score and defensive
players for each stop they create.
Tip #3 – Encourage the goalkeeper to quarterback the defenders
and correct their positioning if needed.