1 – Keep the set-up simple
Ever hear that less is more.  If you think your practice may be in danger of an airplane mistaking your setup for a landing pad you are probably using too many cones. Why does a soccer coach use cones in a practice?  Cones are simply one tool used by coaches to communicate to the players different sets of expectations.  For example;  "Steve, go jog around that cone and come back."  The cones are used as a tool to communicate exactly how far Steve should run before turning around.  A coach of a u7 team often outlines the perimeter of a 40y x30y grid to communicate where the field of play ends. Less cones means more decisions being made by the young players,
Inexperience often leads to over coaching and an over elaborate set-up is often a first wrong step an inexperience coach tries to make.  Have you ever spent 30 minutes setting up 200 color coded cones in an elaborate star shape only to find out the young players cannot conceptualize how your set-up relates to passing and receiving. What now? The coach has to scratch the idea and start over wasting critical time that could be spent on training or gaming.  For u-7 players keep the exercises and the set-up simple.
2 – Maximize the time each player is involved
At the u7 age the best coaches can regularly get 45 minutes of productive practice time out of the young players. After 45 minutes many youth players will tune out; their attention span is short, and if you have a handful that tune out of your practice the session is usually finished for all practical purposes.
So what is the best way to keep the players involved for 90% to 100% of practice?  Keep a ball at everyone's feet as long as possible.   If a player has a ball at their feet they are involved.  This is the critical component of the developmental process for youth.   Coaches often try to imply complex tactics before youth players can handle the ball, this is a huge mistake in the developmental process.
Coaches who can keep their youth players engaged and active for 45 minutes always with a ball on their feet are really moving in the right direction.
3 – Always show a clear example of the expectation
Not all children process information the exact same way.  Some can translate audio sensory cues into a clear picture in their head and then execute the coach's wishes; but at the age of 7 visual representations is the number one way in which children interpret data.  By simply telling young students what is expected, many times important pieces can be lost in translation. Ex. Coach says- "In this exercise every time a player is challenged for a ball you must change direction with the outside of your foot to get away; Go!"  As the coach looks around it's clear that the key technical component of using the "outside" of the foot was brushed under the rug and the exercise has to be stopped and the expectation reset.  A clear visual example highlighting the technical component helps alleviate this problem. Follow your example by having a student demonstrate the technical component to really make an impact!
4 – Put yourself in the head of a 7 year old
This is very difficult for some coaches to do. Often time coaches who have years of soccer experience but no young siblings or children can really make a potentially great experience for a child a really poor one.  Get inside the head of a seven year old, ask them some simple questions about what they enjoy to do when they are not at practice, take those ideas and simply incorporate them as a fun theme to any activity your running.
Mimic their language and be careful not to use soccer Jargon!  Ex.  A coach who says, "knock the ball to the flank into the wide midfielder's feet" probably will not get a positive response from many young players.  It might not sound as flashy but how about?, "kick the ball towards the sidelines so Johny G can chase the ball".
A huge mistake I see inexperienced coaches make is having the belief that the learning process is a one way street from coach to youth. Open up to the idea of a two way street while communicating to the youth and your practices will experience an immediate boost.
5 – Have a strong technical component
At the youth ages, learning technique is crucial.  When teaching ensures that every technical application fits into a progressive development plan.
Before a student can learn technique for ball mastery, a baseline of body awareness, balance, center of gravity and rhythm in movement is critical. This is simply the precursor in the developmental progression that leads into u7 technique.   In your technical training these physiological benchmarks should be recognized and reinforced as a critical stepping stool to hard-line technical training.   At the age of 7, dribbling, passing and receiving should all be paramount topics. In this framework the youth must always considering how the player with the ball is connected to their teammates when dribbling through passing and receiving.
6 – Change the name; Change the game
Most youth soccer players have interests outside of soccer. Whether they are interested in popular cartoons; animals or current events remember that young children have interest other than the game of soccer. Try to figure a way to align your soccer exercise/expertise with the youth's imagination. Change the name change the game. Ex. A simple game of tag can be called "Bunnies and Kittens" and another can be called "Robots and Monsters".  Same game different name; appeals in full to different types of children. Find themes that work for your groups and use it as motivation in your exercises!
Repetition is a great tool for technical training but without imagination young players can get bored easily. The trick is to find a technical exercise and play it as a game. When the game works well, keep the same set up and change the name; keep the game.  Youth will stay engaged and working on critical skills.
7 – Maximize your potential 1 on 1 coaching interactions   
1 on 1 coaching ratios are most effective.  If a 7 year old child goes to 3 practices in a row and the coach never once directly addresses the child or uses their name then the chances of that player coming back on the fourth day significantly decreases.
Note:  the parent may force the child to finish their commitment to the team but in that case retention back for next season is almost completely lost.  Exercises or games where the coach can manipulate his role to where the youth are consistently seeking him/her out while working on critical skills are very effective and offer great 1 on 1 coaching opportunities.
8 – Let the Kids Play
It is as simple as it sounds. They are kids they play for fun. If the game is fun let them go.  The game is a great teacher, less experienced coaches make sure your coaching style mirrors your ability and knowledge base.  We all have had great and less than great practice sessions; if you are experiencing some difficulty in getting your practice to be great; Let the Kids Play
Donovan Kron is the Director of Coaching at Superstruct Soccer.  He has 17 years of professional coaching experience which includes experience at the international, national, regional, and local levels.  As a Head Coach he has lead college, high school and club soccer programs.
The pace of a game can be dictated by several things. Teams without possession can dictate tempo by applying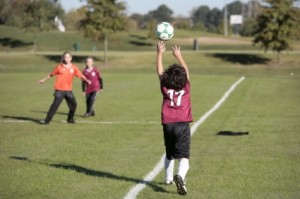 pressure on the player with the ball. This can cause the player to lose the ball or make quick movements to evade this pressure. If pressure is continuously applied, then the team in possession may move the ball about much quicker than they may want to, which usually forces them into hurried passes which may go astray.
Most young players don't even consider the pace of the game as something they can take advantage of. Every game has its highs and its lull-periods and good coaches recognize when these shifts occur and can make adjustments to their advantage. In your meetings, introduce your team to the concept of pace/tempo and let your players know that they have the power to create it during the game. If you have a team that can impose their tempo on the other team then you'll be rewarded.
It's impossible to play soccer at sprint pace for an entire game. The ability to change the pace of the game is a difficult tech­nique to acquire and only really good teams do this well. The fact that it's difficult should not stop you from practicing it because even a slight improvement in this phase of the game can pay off big. Most players under-16 and younger don't even consider manipulating tempo as part of their game. Elite players realize that changing speeds, however, pays big dividends.
Here's an aggressive soccer drill that involves practicing pace and pressure. Play three-against-two in a twelve yard square area. The idea is for the three players to pass the ball amongst each other while the two opposing players try to take it away. However, simple passing is not the total focus of this drill. On your whistle, have players pass the ball quickly and then slowly. This change in speed of passing is a test to slow down the tempo. The two opposing players should try to steal the ball and should not change their speed in doing so.
The three players will be under a lot of pressure. The less experienced the players, the quicker they'll lose the ball because they'll not have the ability to use the spare player quickly enough in order to slow the game down to a more comfortable pace. Experienced players will adapt them­selves more quickly which will leave the spare man time to put his foot on the ball and slow the pace down. They'll also cultivate the ability to hold the ball by screening in tight situations. Working on these principles, the team not in possession will dictate the
pace unless the team with the ball creates space and uses the spare player effectively.
So, on a whistle or a shout, the ball must be passed around at a much faster rate until another signal is given at which time your players are to slow down to a jogging pace. The quick passing should be played first-time if possible. The defender will try and create pressure and their own tempo while the three passers will try to do the same. When the drill is over, discuss with your players how the pressure and speed of the game changed and why it changed under different circumstances. They'll quickly gain an understanding of the value of pace and how they can control it.
Remember, it all comes down to space. Some teams give it to you and other teams will pressure you and make it tight. Whatever happens, look for it and use it efficiently, other­wise you'll be forced to play at a pace dictated to you by the other team.
It takes courage to be a good goalkeeper. Keepers must throw their bodies into the fray of players in order to block or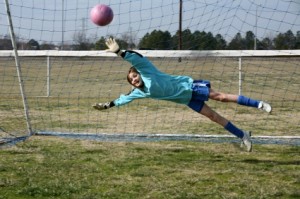 catch a ball to help their teams. A goalkeeper facing an opponent about to shoot must get as close to the forward as possible, giving him as little space as possible in which to score. This should be done in the most efficient way with the least amount of injury risk.
To begin with, the keeper should be properly clothed. Repeatedly diving down on firm ground can cause certain grass burns or grazes. A good suit with padded hips will help to prevent chafing from the ground. Also, beginning goalkeeper training should be on soft ground. If you have a team of pee wee players or those that are under-10, it will take time before they "harden" themselves to play on any surface.
Most goalkeeping soccer drills are aggressive in nature. Work in twos and have a teammate dribble slowly towards the keeper from thirty yards. The keeper should advance to meet the ball in a crouched position to cut down his teammate's angle. When about fifteen yards from the ball, the keeper should prepare to go down by keeping his body as low as possible so that he doesn't have to swoop on the ball and so that his head can be kept steady. He should then throw his legs sideways and his body towards the ball so that the side of his calf, thigh and hip come in contact with the ground early enough not to allow the ball to slide under his body.
As he hits the ground the momentum of his body will still be moving forward (this is when keepers get those pesky burns) and the ball is gathered with his lower arms. His knees will now come up quickly and his head will be slightly forward so that he completely smothers the ball. The best place to gather the ball is into the lower chest.
If the forward attempts to take the ball around him, his hands will help one way while his feet can be used if he goes the other way. By going down in this manner the injury risk is minimized. To go down head first is not only dangerous and also his body covers only a fraction of what can be covered going down sideways.
Once your keeper has gained confidence at going down, practice getting the teammate to dribble the ball towards him and to lose control slightly. The keeper then should advance to meet him in a crouched stance and look for the mistake. When he loses control the keeper can then go down at the ball. Now have the teammate go in towards the keeper with speed and try to score. The keeper then needs to look for a slight error such as when the teammate has played the ball too far in front of himself.
It's often said that in all sports a tentative player who's too "careful" and plays to avoid injuries ends up being the first one injured. A goalkeeper must be courageous especially in these dangerous situations. If he is afraid of diving at the feet of an advancing forward, or goes in tentatively, then he's risking injury to himself and harming his team.
At training sessions, make sure that you prac­tice with your keeper skills to get this confidence. With two or three team-mates, practice the keeper as often as you can. This will instill the confidence in him to be competent and courageous. It's likely you'll find that special player on your team who fits the keeper mold. It's more of a mindset than anything else. Consider yourself lucky if you have such a player.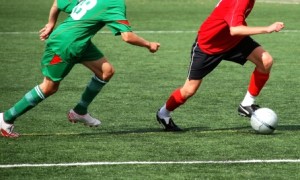 Since soccer is about running and knowing that movement creates movement, a player should always be willing to run into positions which threaten the opponents' goal, even when the odds are against him receiving the ball. He will then cause havoc for the defense which will make things easier for his team­mates. When attacking, running off the ball means getting into a position which enables the player on the ball to make the best pass possible in the situation.
A player that wants to move well off the ball will be conscientious about his cardio training. A good exercise to encourage movement and cultivate the ability to lose opponents is 'shadow movement'. You can practice this with two players – one player is followed by his partner, the defender. While moving forward at a jogging pace, the player in front suddenly stops, then moves or changes direction quickly in an attempt to get away from the defender. The defender should follow as closely as he can. This will also be excellent reflex training for the defender marking one particular opponent closely.
Defenders like playing against teams that don't move much. They are put under most pressure when movement takes place behind them. Ideally a defender wants to be able to see the ball and watch his immediate opponent at the same time. The art of positioning is to make the defender as uncomfortable as possible by work­ing on his back or blind side. Defenders detest being made to turn and run back towards their own goal. They are also under pressure when they allow their immediate opponent to turn and run at them with the ball.
Now try an aggressive soccer drill which utilizes four players, one ball, and an area about 30 yards long and 10 yards wide. The four players form two pairs. One pair will be work­ing in direct opposition to each other and start in the middle. The other pair will split up and each player will wait on one end of the area and act as supporting players. The idea is for one player of the pair working in the middle to work the ball with the player on one end in order to play to the player 'resting' at the other end. His partner must mark him tight and try to win the ball so that he can then have pos­session and work the exercise himself. One minute will be enough time for a pair working really hard.
It might take several attempts made before your players really get the idea, but the effort will be worthwhile. Your players will soon learn to position themselves diagonally from the supporting player to whom they're passing. Encourage the defender to come in close by passing the ball to the player's feet a couple of times before playing and sprinting on the blind side to collect the return through ball, then play it to the other player. Your player then moves quickly into a diagonal position ready to go again. If the opponent comes in really tight, he can look immediately for a direct ball on the back side of the marking player. If he doesn't come in tight, then your player can turn and take him on.
Timing is important. Your players need to keep one eye on the ball and one eye on their marker and the moment they know they can lose him they should try to get away. Then he'll be in a position to steal a shot at goal if the ball is played to him, and the other defenders will be wondering where he came from.
It's unlikely that you'll find players under-8 that have the feel for off-the-ball running. This is a skill that takes time to develop with experience. However, it won't take as long as other skills. Teach your players to keep their heads in the game and constantly be thinking of great places on the field to run to. They need to know even without the ball they are in the game!
In order to protect his goal from direct shots, a goalkeeper needs excellent reflexes. With a good handling technique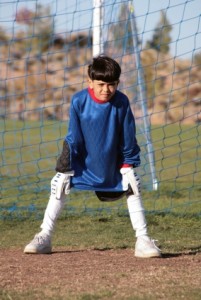 keeper should be capable of stopping most shots. However, careful positioning and anticipation will reduce the number of shots in the first place. Young players take time to develop this anticipation, but there are universal goal-keeping rules to follow to help make your players successful now as they develop their intuition for the game.
Before starting a game or practice drill, a keeper should check his basic position. This position will help him cope with the unexpected and enable him to run out and jump for a ball or make a diving save in the fastest possible time. He should stand with his feet about hip width apart, knees bent slightly and leaning his trunk forward from the hips. He should bend his arms so that his forearms are almost parallel with the ground about hip height. Finally, he must keep his eyes fixed on the ball, but also watch for any indication as to which way the ball is going.
In training, it's best if goalkeepers have specialized coaching, whether they are kindergarten age, under 10, or even under 16 years old. While their team-mates work on their field skills, a keeper can work on his. One strength-building drill he can do is to lie on his back holding a ball on his chest. He can then push it hard into the air with both hands then jump to his feet as quickly as he can to catch it. He should be trying to jump to make the catch. As he improves, he can use a weighted medicine ball to make the exercise more strenuous.
Safety in handling the ball can't be over-emphasized. No matter how sharp your keeper's reflexes become they could let him down if he can't hold the ball when he's reached it. The best way of increasing safety when catching the ball is to provide a back-up barrier whenever possible. When stopping a low shot, for example, the feet and legs should be close enough together so as not to allow the ball to go through should it slip through his hands. Also, the stomach or chest should be well behind the flight of the ball when possible. For balls above the head, special care must be taken because it is impossible to back the hands with a second barrier. In this situation a keeper must make sure that the palms are right behind the ball and that the velocity is absorbed by allowing the hands to give slightly on contact.
When dealing with low shots, there are two ways to block them.
1) In the first method, the keeper should position his legs just a few inches apart and straight, bend his trunk forward and take the ball in front of the legs with the fingers and palms of both hands, which should be held close together. As the ball makes contact with the fingers and palms, its speed will make it roll up the forearms onto the body. Then, the keeper should straighten up, bending his elbows to bring the ball into his chest, clutching it firmly to prevent it bouncing off his body. The keeper should also watch the ball right into his hands.
2) The second method is safer because the whole body is behind the ball. This is performed by turning the hips slightly one way and kneeling on one knee. One knee should touch the ground just in front of the arch of the other foot so that there's no way for the ball to get through if the keeper should make a mistake. The ball is taken in exactly the same way as the first method. This method might not be as popular as the first, but might work better on bumpy or wet playing conditions.
Remember to only work until your players appear tired. Working young players beyond this point can cause them to develop bad habits which they might bring to an important game.
If a player wants to take a ball away from an opponent, the way to do it is through good tackling. Great defensive skills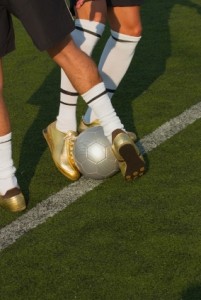 will help, but good positioning might be even more important. Good tacklers always adhere to certain fundamental rules -
1) They always mark so that they're between their own goal and an attacker
2) They always give themselves a chance at intercepting the ball
3) They always limit the area in which their opponents can receive the ball.
It's important to remember to mark close enough so that your player can tackle him as he receives the ball, but not so close that the opponent can lose your player by quickly moving into a dangerous position.
The most important single factor when it comes to the tactics of tackling is timing. The tackle should be made at the first chance and ideally just as the opponent is receiving the ball. At this time your opponent's concentration will be focused on controlling the ball so a quick, unexpected tackle before he has full control will often be successful.
A different approach should be taken if your opponent already has complete control of the ball. It can be dangerous to rush in and attempt a tackle on a player who is prepared for it. He can simply avoid the tackle, leave your player stranded and pull his teammates out of position to deal with the situation. Rather, hold off and patiently follow and pressure him into making a mistake. Once the opportunity presents itself, a player can have confidence going in to make a determined tackle.
Pressuring an opponent should be done in an aggressive way. The attacker shouldn't be allowed to dictate the situation and the area into which he's going. The defender should try to keep him on the move, shepherd him away from his goal towards the touchline, and be ready to pounce on a mistake. The closer he's forced to the touch­line, the less area he has to work in. Get him over the touchline and the ball is yours.
Let's take a look at a few aggressive soccer drills that work on tackling. Tackling is not a good drill set for pee wee age players or players in that age range. Try using tackling drills on occasion to an older age player group, like those in the u16 or u14 range.
1) Cat-and-Mouse – this game can be practiced by two players. Player A should dribble towards player B and attempt to beat player B by going around him. Player B must concentrate on keeping close to him, letting him pass, and forcing him into an area that he wishes him to go. Once in a safe area, B can look for a good tackling opportunity.
2) Now move into an area about 20 yards square and play three against two. The side with the two players are the defenders. The three offensive players pass amongst each other, keeping the ball within the area and away from the two defenders. The object here is for the defenders to work together so that the ball is played into an area that gives them a chance of an interception or tackle. If one of the defenders attacks the player in possession and pressures him into playing the ball, the second defender can anticipate this action and close down the intended pass and tackle the receiving player as he attempts to gain control. This is not an easy game for defenders because the player in possession has two players he can pass the ball to. The idea is for the defender applying immediate pressure to approach in such a way that he not only makes the player in possession move in one direction, but also cuts out one of the other attackers.
Like most skills in soccer, tackling is an art that combines great instinct, positioning, and timing. Once mastered, it can serve as a valuable weapon in your players' arsenal and serve your team well.
One of the rewards of playing soccer stem from working hard at a tactic in practice and then successfully using it in a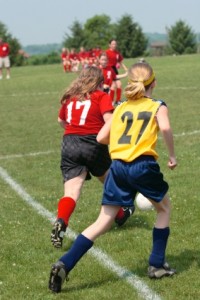 game. Players of all ages, from under-16 to kindergarten, can learn a lot from this process. One such tactic, called the fast-break, can be one of the more exciting and productive skills in the game. Switching from defense quickly to a counter-attack involves a complete team effort.
Like all team tactics, the fast-break is a combination of several skills which must be practiced in order for the move to work as a whole. High on the list of skills needed in this case is the ability to pass the ball accurately over long distances as well as the ability to make a run onto the pass at precisely the right moment.
These skills can be practiced anywhere and all that's needed are two of your players and some space on the field. Begin by having them stand about thirty yards apart and pass the ball to each other. Of course, shorten the distances for younger players. They should concentrate on driving their passes so that they go crisply to each other. It's best if passes don't bounce along the ground. When the ball is received it should be controlled and the players should look up and drive it back again.
When they've become proficient at doing this, one player should play the ball to a spot twenty yards or so to one side of the other. The point of this aggressive soccer drill is for the player and the ball to arrive at the spot at the same time. If the one player arrives and needs to wait for the ball to come he's made his run too soon. In a match he would be quickly marked by defenders if he did this. If he arrives too late, he'll miss the ball. It's all dependent on judging when the player with the ball is going to release his pass.
At the same time he needs to be consistent in the strength of his passes and continue to drive them rather than lightly pass them. Practice this, taking it in turns having one playing the passes and the other running to meet them. When your team has worked on these skills you can put than into practice in team training routines designed to encourage the fast-break.
It's not always possible to hit long passes deep into space behind defenders. The defense will usually retreat quickly to fill these spaces. But your player can still break quickly if the ball is played up to the feet of a front player. He can then either turn and run at the defenders with the ball or play it back to a supporting player. The supporting player then plays the ball through for a return pass to a forward or passes to a third player running through.
Again, as your team grows in confidence, you can make the practice more difficult by introducing defenders.  If you work at this skillset, your team will be well-equipped to launch counter-attacks whenever your side gains possession after your opponents have attacked in force. Remember, once your team has the ball and is breaking forward, the whole team must make every effort to help the player who is making the break.
Many young players don't like to first-time a ball.  First-timing means to pass it or play it before it's trapped or comes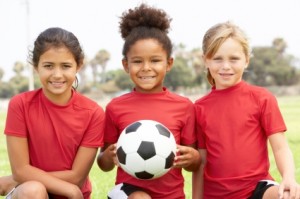 to a complete stop.  This is partially due to the fact that since they've been very young, they've been trained to properly trap first and then pass.  It takes time before players feel they're even allowed to first-time a ball. Usually they lack confidence in their ability to play it quickly and accurately. Developing good control is important when it comes to first-timing a ball.
It's impossible to play the ball first-time all the time, nor would you want to, but first-time play is usually a great way to break through tight defenses because it helps change the pace.  There are many creative ways to develop comfort with first-time (or one-touch) play.  Let's take a look at a few practice drills and games to strengthen this ability in your players.  These drills are suitable for kindergarten age players up through more advanced stages, such as under-16 year-olds.
1) Try a simple practice with a ball between two players standing about 15 yards apart.  The idea is simply to pass the ball back and forth without trapping it. This sounds easy, but have the players try to string together fifteen passes, or twenty.  Competitions can be created and the team who makes the most crisp first-time passes wins. Players will soon realize that the ball doesn't always come to them along the ground.  Sometimes it needs to be volleyed.
This drill soon becomes a first-time passing practice requiring a high degree of touch and feel, both qualities you want your young players to develop.
2) Groups of five players with one ball can work another routine in the center circle. Eleven positions should be marked on the edge of the circle, one for each player and a spare. The object of the exercise is for the player with the ball to pass to any other player and immediately run to the spare position. 
The player receiving the ball must play it first time to somebody else and again sprint to the spare position which now is where the first player was standing. This continuous practice of first-time passing and running helps players become aware of finding space. You can even add a defender to try to intercept the passes.
3) Once players are aware of space and support, a six-a-side game, in which everyone must play the ball first time, is a great drill. A full-sided game of one-touch is the next step.  Your players will look forward to this exercise.
Instruct your players that they'll also find that even though they are watching the ball, they can still see other players partner out of the corner of their eye. This awareness enables them to play the ball to their teammates when they move off after playing the ball to you. This introduction of movement is a natural progression from doing these types of exercises standing still.  One-touch soccer adds variation to the attack and gives you a natural ingredient to quickening the pace of a game.
Every player wants to play for a team rather than a collection of individuals. To score goals there must be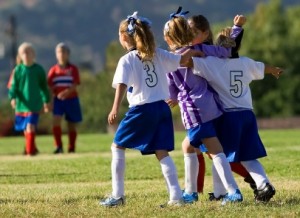 organization and team-work in attack, and switching the play or attack is part of this organization.
In order to become good at switching play, players should have the internal skill of being able to sense what's going on all over the field and to sense the next move before it happens. This takes time to develop for young players and many achieve it faster than others, but for all it will eventually come. Kindergarten-age and younger soccer players are more concerned with what's in front of them and don't have the ability or sense of the game to know what's happening on another end of the field.
Here are a couple soccer drills you can show your players to get them thinking big and developing awareness. Feel free to adjust these drills or add dimensions to them to make them more or less challenging for the level of players you're coaching.
1) You can begin by practicing in groups of three. Have three players pass a ball to each other. As always they should concentrate on hitting the passes cleanly so that in a match they would have enough power to reach the player it's intended for.
As soon as the players have the feel of the ball, detach one player from the group and get him to stand about 20 yards away from the other two, who are still passing the ball to each other. His job is now to make a run and call loudly for the ball.
When he calls, the player who has the ball must immediately pass the ball accurately and crisply to him. He then returns the ball to the two who begin passing amongst each other again. Players then switch roles and begin another run.
The idea is that the two players who are passing the ball back-and-forth must also be aware of what the player who is making the run is doing. They must keep in mind where he's positioned. In other words they must have vision. So while passing the ball, they should look up and around so that they know what's happening. In this practice they'll only have to watch for one player, but in a game they'll have several team-mates and many defenders to keep an eye on.
2) Now take this drill a step further. 'Four Passes' is a good way to build up vision. Split your group into two equal sides and play in a restricted area, such as the penalty area. The object of the exercise is to score goals, but they only count if they come after four consecutive passes by the attacking side.
As soon as you start to play 'Four Passes' you'll see how your player's vision will be put to the test. Unless they notice where their teammates are running, they'll never be able to string together the four passes needed to score a goal.
However, when they do get a goal they'll be amazed at how much enjoyment and excitement they feel from it. The ability to link four passes together and beat a goalkeeper is great team-work and that's the key to soccer. In a game you'll now have another weapon to create chances and score goals and you'll get further enjoyment from the game knowing it was your player's team-work that built the goal!
Communication is essential if players are able to work well as a team. Often it's impossible for the player in possession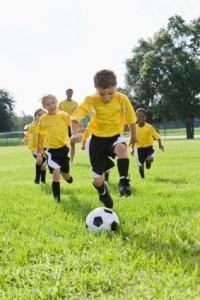 to know exactly what's going on around him. Clear, concise directions given by a team-mate in a good position to judge what's happening is invaluable help.
Young players new to soccer, especially under 8's or under 10's, are very quiet on the field. This might be likely due to the fact that they're learning the game and don't feel confident. Even the shyest players can develop an on-field persona in which they are vocally very aggressive and dominant. This is especially important in the goalie position. If you have a quiet child as your goalkeeper, gently encourage this player to shout directions not for the point of being loud, but to help his or her team.
The goalkeeper is often in the best position to see and advise. He's also responsible for most of the play going on in the back third of the field and it's from this position that he should take command. But defenders are only willing to receive and carry out instructions from the goalkeeper without hesitation if they are clear and confident.
The keeper must work to earn the respect of his defenders if they are to have confidence in his judgment. He should leave no player in any doubt as to what he wants to take place. Instructions given in a firm and definite tone have a strong psychological effect not only on the defenders but on the opposition as well.
The referee can penalize an instruction that purposely tries to distract opponents so it's safer to call a name or something like 'keeper's ball', when as a keeper you are indicating that you are leaving the goal-line to make contact with the ball. You want a clear space from defenders and cover should you make an error. Defenders in the immediate playing area should react automatically by getting out of your way and moving towards the goal-line to give the cover.
This kind of chemistry is only developed through time.
A defender being chased by opposition while chasing a ball towards his own goal can be in a tricky position. As you move out you must decide whether you want the defender to play it back or leave it for you to come out and pick it up. Again, be positive because you're in the best position to read the situation. Call 'play it', 'leave it' or 'keeper's ball' depending on what you want the defender to do.
Free-kicks also require definite instructions from the keeper. First, you must decide whether or not you want a wall and if so how many players you want in it and where they should stand. Second, you must make sure that all attackers are marked coming into the penalty area. A shout of 'cover him' while pointing at the opponent is all that's necessary.
Instructing players to 'move out' when the ball is cleared or for a fullback to 'cover' are also instructions that a goalkeeper can give because his position gives him such a wide view of the action. An understanding between the goalkeeper and fellow defenders will not just happen. A lot of work will have to take place during soccer drill sessions. In games of attack versus defense the goalkeeper can be encouraged to dictate certain situations.
Talking is a major part of soccer. Remember to keep your calls short and to the point. Be clear, intelligible, loud and positive.