Drill Purpose
Another soccer shooting drill, Pressure Shots helps players become accustomed to taking a shot on goal quickly. Also a great soccer fitness drill, players will improve their muscular endurance as well as work on their control skills.
Instructions
1. Five players per drill group are needed as well as 8 soccer balls and one flag. All play for this drill will take place in the penalty area. The distance from player E to the cone is about 5 yards.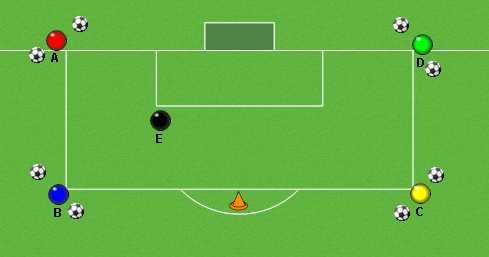 2. On your whistle player A passes to player E.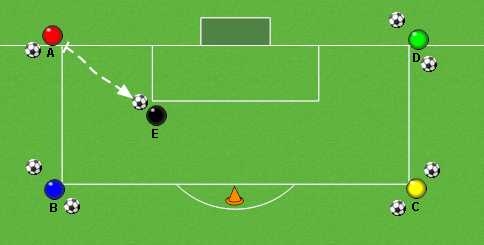 3. Next, E immediately shoots at the goal and runs around the cone.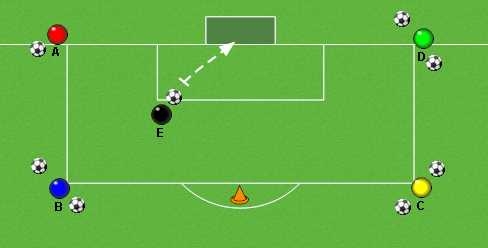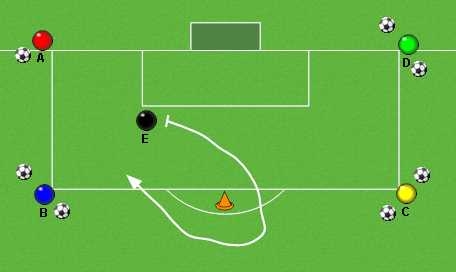 4. Always in continuous motion, E will then receive a pass from player B and so on.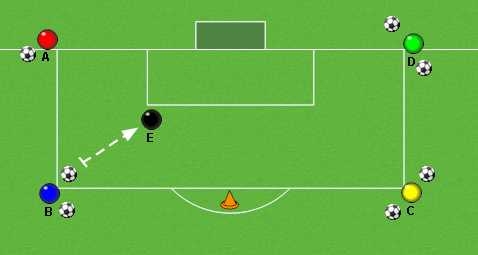 5. Once player E has repeated the cycle 2 times the drill ends.
Points of Emphasis
Pressure Shots is a finishing soccer drill. Players should become comfortable with receiving a pass and taking a shot quickly. A pass should be received, controlled, and shot in split-second time. Instruct players to…
– (passers) concentrate on giving a sharp, on-grass pass to the shooter in a position in which the shooter can best take a shot.
– (passers) keep their head in the drill – Pressure Shots is as much of a drill for the passers as it is the shooters.
– encourage the ball receiving player, E, to occasionally point to where he/she would like the ball to be passed.
Progression
As players gain an understanding of the game, further variations include:
1. Requiring shooters to take shots with both feet.
2. Adding more than 4 passers – 5 or 6 is possible or even more.
3. Requiring passing players to pass with both feet.
Motivation / Teaching Tips
Tip #1 – Instruct the shooter to occasionally change running speeds
when receiving the ball and taking shots.
Tip #2 – Reward a player who makes all of his shots and also
reward passers for making passes the receiver can handle.
Tip #3 – Players like competition, so reward a player that scores
the highest number of successful goals.