Description
Brief Description:
In this DVD you will learn how to allow your team tactical flexibility with the 4-2-3-1 formation, how to break down your opponents, and how to win more games with the system.
Recommended for college, high School and advanced club coaches (U14 and up).
Price: $29.99
Our Review of the DVD:
Coach Lauffer spends the first half of the DVD clearly explaining the system and activities on a blackboard. For the advanced coach, this video will be very helpful in breaking down the 4-2-3-1 soccer system, as well as explain the roles and responsibilities of each position. The second half of the video shows the team executing the drills. The only downside is the field is dried grass and it is a cold day so the field activities are not as high quality as other DVDs. Overall Grade: A-
Description of the Product: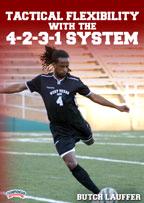 Flexibility is key for any successful soccer team. In back-to-back NCAA Elite 8 appearances, Butch Lauffer has utilized the 4-2-3-1 soccer formation / system which allows his teams tactical flexibility on the offensive and defensive ends of the field. In this DVD, Coach Lauffer demonstrates how this system can be adjusted for stronger defensive or offensive formations, the roles of the players, winning the ball, transition, angles of recovery, pass timing, and attacking. Coach Lauffer also shares several field exercises than can be used to develop the 4-2-3-1 for your team. Using this system will give your team greater flexibility, will help your team break down opponents, and win more games.
DVD features Butch Lauffer — West Texas A&M University Head Soccer Coach, USSF "A" license, Grade 1 coaching license (Irish Football Association), Class "A" License (United European Football Assoc.), UEFA pro license (Scottish Football Association).
DVD Segments:
The Back Six & Top Six
Attacking the Back Four
The 11 V 10 Attack
Field Exercises: Part 1
Field Exercises: Part 2
Conclusion
78 minutes. 2005.
Sample Video Clip
30 Day Money Back Guarantee
Just like any reputable book store or retail business, we have a 100% money back guarantee too. If for any reason, your purchase is not what you expected, just send us a message and we'll give you a full refund.
If you have any questions, don't hesitate to email us.