Description
Brief Description:
DVD provides a complete guide to improve your goalkeeping — demonstrates technique, drills, and refinement for successful goaltending.
Recommended for intermediate and advanced coaches (U10 & up).
Our Review of the DVD:
Biggest disadvantage is there are no chapters. Good content and the best Goalkeeping DVD we have reviewed but without chapters it is difficult to go to one section of the DVD to reinforce learning. Overall grade is B-
Description of the Product: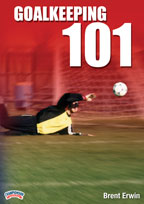 Brent Erwin, one of the premier goalkeeping coaches in the game today, uses on-field demonstrators to show multiple drills that will assist goaltenders at any level reach their full potential! Coach Erwin covers six main areas of goaltending in this video: footwork training, the importance of footwork, warming up properly, technique, crosses, and breakaways. Also included are drills for diving, catching, agility, crosses, and lobs. Each drill is explained thoroughly with valuable coaching points highlighted. This is the "fundamentals of goalkeeping" video every goalkeeper and coach will want to watch.
Brent Erwin is the Southern Methodist University Head Women's Coach, USSF "A" License
54 minutes. 2003.
Sample Video Clip
30 Day Money Back Guarantee
Just like any reputable book store or retail business, we have a 100% money back guarantee too. If for any reason, your purchase is not what you expected, just send us a message and we'll give you a full refund.
If you have any questions, don't hesitate to email us.