Description
Brief Description:
The video shows the Notre Dame pre-season condition test, drills, and technical drills. It will help you jump start your season and get your team on the right track. It includes team and individual drills.
Recommended for college, high School and advanced club coaches (U14 and up).
Our Review of the DVD:
The video shows the Notre Dame pre-season condition test, drills, and technical drills. It is geared for the elite club, high school, or college coach. Some very unique drills with tennis balls, Brazilian soccer balls, and cones. This DVD would be perfect to purchase prior to the pre-season portion of your schedule.  You could create a great pre-season program with the examples provided.  Overall Grade: B+
Description of the Product: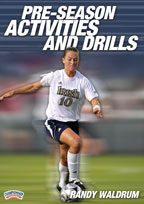 Attacking and defending are imperative for the success of any soccer team. Randy Waldrum is a master at developing, then perfecting, attacking and defending skills in his players. The seven-time NSCAA Regional Coach of the Year shares some pre-season drills designed to improve the four components of a player's game. Coach Waldrum uses practice footage to demonstrate and explain each drill. Waldrum's drills progress from individual footwork drills to competitive 8v8 drills designed to put players in game-like scenarios. Each drill has been a vital part of positioning his teams for success. These drills can be used at every level to improve your team's overall ability and for individuals who want to compete at the highest level. This drill package is an excellent compliment to Waldrum's Attacking and Defending Concepts DVD.
DVD features Randy Waldrum — University of Notre Dame Head Women's Soccer Coach;
2004 National Champs; 3X NCAA College Cup runners-up; Seven time Conference Coach of the Year; Seven time NSCAA Regional Coach of the Year; Coached three National Players of the Year.
DVD Segments:
Introduction
Fitness
5 V 3
Crossing & Finishing
Circuits
8 V 8
Attacking Drills
Attacking Patterns
Defensive Pressing
6 V 6 + 1
8 V 8 +2
11 A Side Game
Back 4 Zonal Defending
4 V 4
Passing
Conclusion
47 minutes. 2009
Sample Video Clip
30 Day Money Back Guarantee
Just like any reputable book store or retail business, we have a 100% money back guarantee too. If for any reason, your purchase is not what you expected, just send us a message and we'll give you a full refund.


If you have any questions, don't hesitate to email us.