Product Description
Brief Description:
In this DVD you will learn game action drills that demand technical precision, wee how to translate drill mechanics into game play, and get different offensive options out of a basic "W" formation.
Recommended for college, high School and advanced club coaches (U14 and up).
Our Review of the DVD:
Excellent passing progression session for the advanced team. Coach Brandt is a great coach and communicator.  He clearly explains the series of progression drills, which is supplemented by graphical explaination.  If a coach is looking for a DVD to improve their players' technical skills, this is a great DVD to purchase.  Geared to Club, HS, and College coaches. Overall Grade: A
Description of the Product: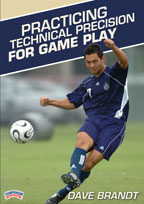 Join the NCAA's all-time winningest coach, Dave Brandt, as he leads you through a build-up of drills for your practices to help your players translate drill mechanics to game play. Demanding specific technical requirements of his players in each drill, Brandt shows you how to build your players' skills to the maximum. Starting with the basic "Dutch Diamond," Brandt has players work the ball around the diamond using two touches, one touch, cut backs and step over turns to reverse the ball and splits. Brandt then stretches the diamond out for his "Breaking the Line" drill where players have to receive a pass and take the ball across their body before passing off to the next location. Next, Brandt has his players work the ball around in the basic "W" pattern. He describes six different options than can be incorporated into this "W" formation including backside passes or opposite players and the give and go. Brandt includes a 5 v. 4 scrimmage game where the team works on translating the options they worked on without the defense present. Brandt has proven that these drills are effective for producing maximum results from your players.
DVD features Dave Brandt — US Naval Academy Head Men's Soccer Coach, All-time winningest coach in NCAA history, 6x NCAA Division III Championships at Messiah College, career winning percentage of .887.
DVD Segments
Introduction
Techniques
Breaking the Line
Patters
5 V 4
Conclusion
59 minutes. 2009.
Sample Video Clip
30 Day Money Back Guarantee
Just like any reputable book store or retail business, we have a 100% money back guarantee too. If for any reason, your purchase is not what you expected, just send us a message and we'll give you a full refund.
If you have any questions, don't hesitate to contact us.