Product Description
Brief Description:
In this DVD you will learn game action drills that demand technical precision, get variations of each drill to challenge your players to develop their touches, and see how to set up and execute each drill.
Recommended for high school, college, and advanced club coaches (U14 and up).
Our Review of the DVD:
Excellent teaching of passing and finishing drills. Coach Brandt clearly explains and demonstrates a series of drills that club, high school, and college teams will be able to execute.  A helpful feature is that he diagrams and explains the drill on a whiteboard, and then demonstrates the drill on the field with college players.  Great if you are looking for some drills that will improve your team's technical skills.  Overall Grade: A
Description of the Product: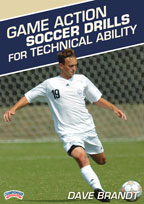 Step onto the field with the NCAA's all-time winningest coach, Dave Brandt, as he leads you through game action drills and variations to build your players' skills to the maximum. Using both whiteboard diagrams and practice footage, Coach Brandt makes sure you know exactly how to effectively teach and run each drill. Brandt's drills will produce quality dribbling, passing, one-touch passing, two-touch shooting, finishing shots with precision and more. These drills will train your players to make quick and controlled decisions, which will pay off in game situations. Brandt has proven that these drills are effective for producing great results in soccer practice and in game situations.
DVD features Dave Brandt — US Naval Academy Head Men's Soccer Coach, All-time winningest coach in NCAA history, 6x NCAA Division III Championships at Messiah College, career winning percentage of .887.
DVD Segments:
Introduction
Magic Diamond
Speed Passing
Finish Shots
Finish Attack
Race to the Finish
Heerenveen Shooting
Conclusion
64 minutes. 2009.
Sample Video Clip
30 Day Money Back Guarantee
Just like any reputable book store or retail business, we have a 100% money back guarantee too. If for any reason, your purchase is not what you expected, just send us a message and we'll give you a full refund.


If you have any questions, don't hesitate to contact us.